NEBC Connector Project
NorthRiver Midstream Inc. is proposing to construct and operate the NEBC Connector to connect British Columbia's Montney Resource to downstream markets.
The NEBC Connector consists of two parallel small diameter pipelines (between 8"-12") and approximately 213 km in length. Of the approximately 213 km, 190 km will be in British Columbia and the remaining 23 km will be in Alberta.
It is anticipated that the pipelines will transport condensate (C5+) and natural gas liquids (NGL) (C3+) from NorthRiver Midstream Inc.'s Highway Liquids Hub, northwest of Wonowon, British Columbia, to the Gordondale area of Alberta.
Contacts
Bag Service 6180, Mile 53 Alaska Highway
Fort St. John, B.C., V1J 4H7
Email: ExternalAffairs@nrm.ca
Project information
Project Timeline
NorthRiver Midstream began early Indigenous, landowner and stakeholder engagement in Q2 2020. Subject to receipt of all required regulatory approvals,  construction will be complete and the project placed into service in Q4 of 2024.
Q2 2020
Begin early Indigenous and stakeholder (including landowner) engagement
Q3 2020
Commence survey, environmental field studies and community-led traditional land resource use assessments
Q3 2021
Complete environmental field studies, including archaeology assessments
Q4 2021
File Project Application with the CER
Q4 2023
Subject to regulatory approvals, construction is anticipated to commence and is expected to occur over a twelve (12) month period.
Q4 2024
Commercial in-service date
Map
*Preliminary route subject to Indigenous, landowner and stakeholder consultation.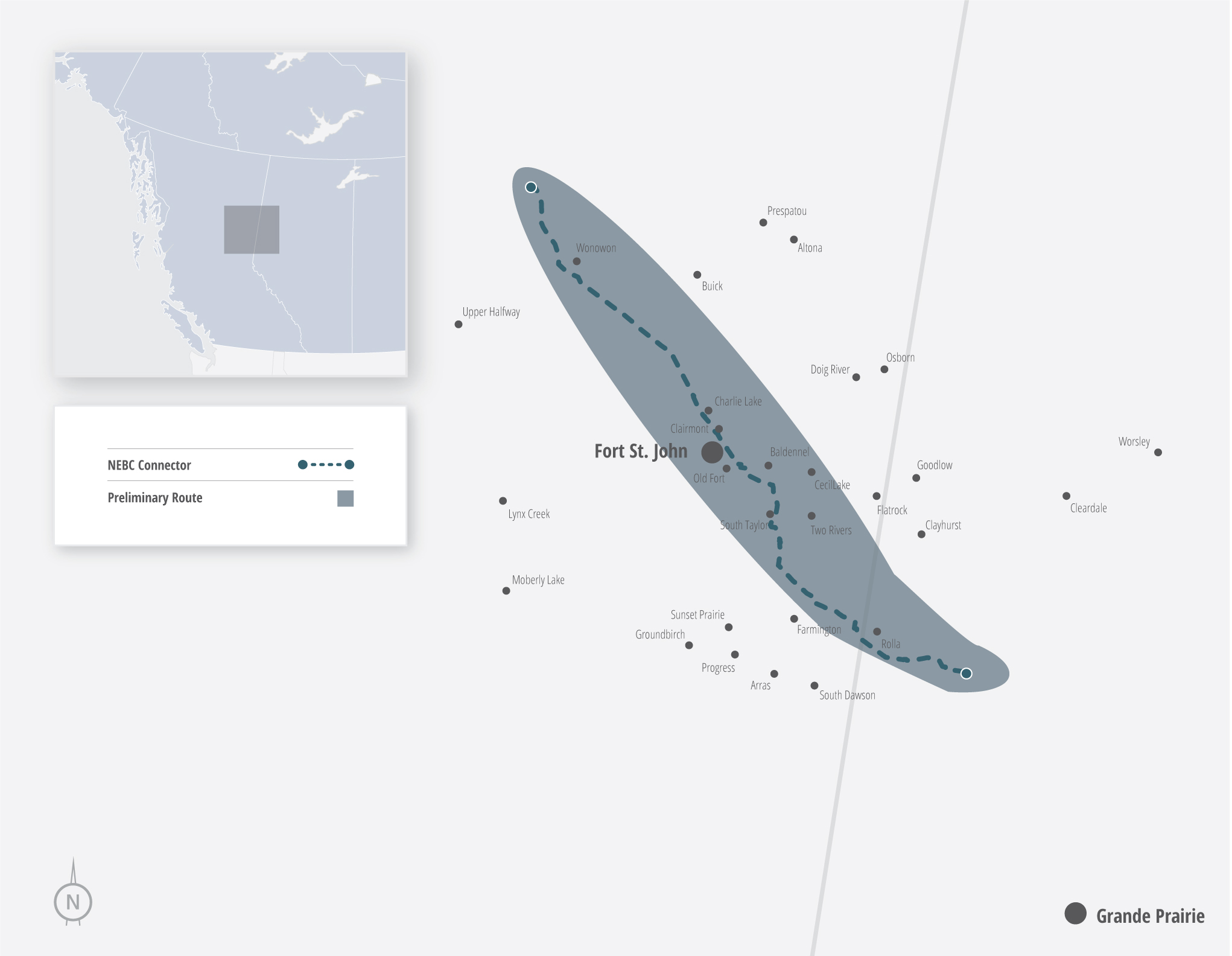 NorthRiver strives to engage early and often in an open manner with Indigenous communities, landowners and other interested stakeholders.
Should you have any questions or concerns about the project, please contact regulatory@nrm.ca or 587-747-6500.
For information about the CER and the hearing process, please click here.
Service Request Forms must be submitted to NorthRiver by January 31, 2022.
Questions on the Open Season for the NEBC Connector can be directed to: